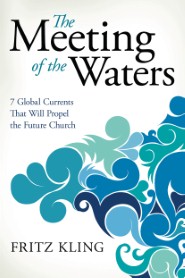 by
Fritz Kling
$0.00 HKD
$131.81 HKD
The Meeting of the Waters

identifies seven trends having a major impact on the Church around the world—and on every Christian at home in every country.

The global community of Christians is stunning in its scope and spiritual impact. But what is happening to the Church as new technology, marketing, and generational shifts make their unavoidable mark? And what difference does it make for Christians in day-to-day life? Equal parts travelogue, character study, and global documentary,

The Meeting of the Waters

interlaces stories and instruction in the tradition of

Freakonomics

,

The World Is Flat

, and

The Tipping Point

. This breakthrough book is for any Christian eager to make a difference in a changing world.

Fritz Kling

has spent the past decade in the heart of the global Church, traveling through villages and cities in every corner of the world. As a foundation executive, he has worked alongside both high-level leaders and grass-roots workers, and has an insider's story to tell.
by
Daniel Hochhalter
$0.00 HKD
$61.99 HKD
In 2008, after seven years of preparation, Daniel Hochhalter permanently failed his PhD, leaving him with no refunds, no transferable credits, no recourse to appeal or try again, and no hope of gaining the qualifications needed for his desired career. Then he lost his job. Devastated and in crisis, with no Plan B and no clue how to redeem his future, he looked to the twelve disciples and discovered that—despite their gaping faults and sins—God still loved them and used them to change the world. With fresh warmth and wisdom, ample hope and humor, Losers Like Us skillfully intertwines Dan's own story with theirs to show how our worst mistakes and greatest failures bring us to a place of teachableness, egolessness, brokenness, and empathy—the very qualifications required to receive God's love and grace, and to manifest his kingdom on earth.