In Found: God's Peace, trusted pastor and teacher John MacArthur tackles this vital question head-on.
Throughout the book, MacArthur shares principles to help you overcome uncertainty, defeat worry, and experience true freedom from anxiety.
As Pastor John MacArthur writes, the key to worry-free living is to replace worry with prayer, right thinking, and action. Here he draws on rich biblical truths to show us how.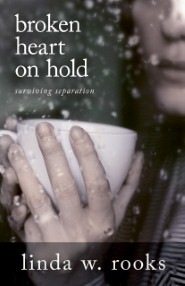 by
Linda W. Rooks
A woman who is separated needs a friend to walk beside her on her difficult journey.
Broken Heart on Hold is that friend, one that will uplift, encourage, and hold her up while offering practical insights and pointing her to God. It is a book of hope. Because it is written by a woman who has gone through the trauma of a separation and the eventual healing of her own marriage, the reader will know she is not alone.
This collection of honest, heartfelt messages reaches down into the valleys of a woman's loneliness, travels with her through her mental labyrinths, and sheds light in the dark tunnels where answers seem nonexistent. It provides the emotional and spiritual strength to help a woman sort through her confusion.
While winding her way through the maze of her emotions, she will realize there is hope as she hangs on to God and trusts him for the outcome. Broken Heart on Hold is a book she will return to again and again.